• Discounted Guestlist: InsideOutMornings.eventbrite.com
It's been one year since we took the music outside! Our Inside Out parties at The Endup have quickly become the place to be on Saturday mornings in San Francisco! Thank you for your continued love and support!

Join us on the patio early morning on Saturday, July 20th, to welcome Dominic M, Love, Gina, and Dick Daniels to Inside Out!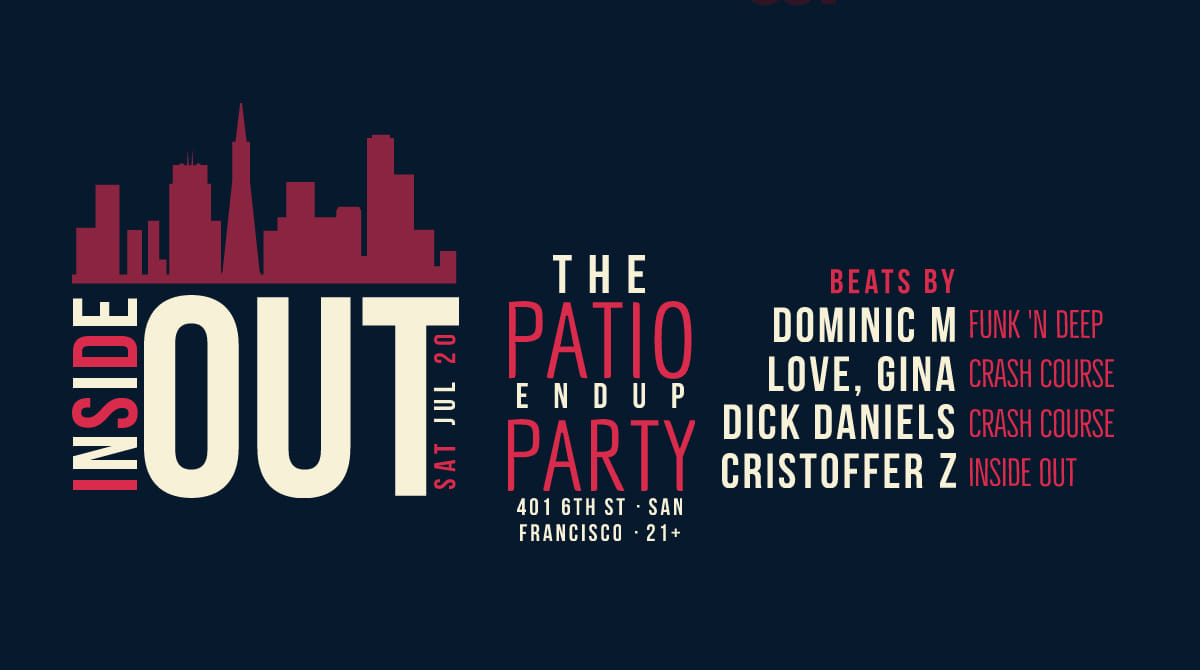 About this week's beats:
***OUTSIDE***
Dominic M
(Funk'n Deep Records, Renesanz)
Love, Gina
(Crash Course)
Dick Daniels
(Crash Course)

***INSIDE***

Hosted by:
Dave Girdwood a.k.a. Tamboman
Melissa Jenkins
Naeon


Brought to you by Inside Out founders and residents:

Now serving:
Beats
Bites
Bar
__________________________________________
INSIDE OUT MORNINGS is a unique Indoor and Outdoor morning party experience that begins Inside and later moves Outside to the beautiful patio when the headliners take over the DJ stage!

Sign up for a $5 discount off the door cover: InsideOutMornings.eventbrite.com


6am – 11am
Bar opens at 6am
Smoke friendly outdoor patio
Ins & Outs
21+